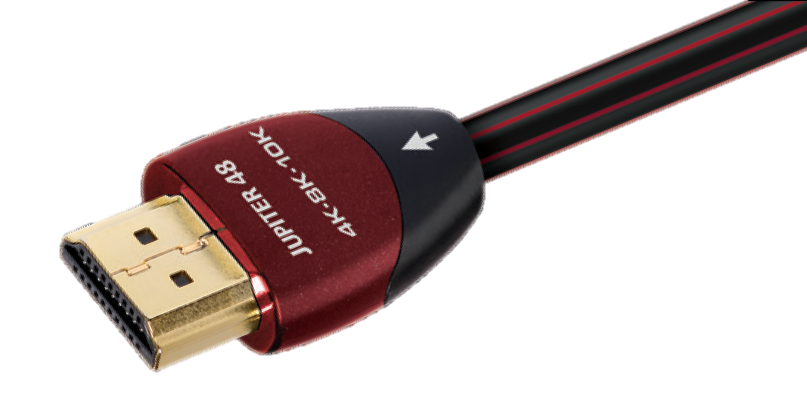 AudioQuest Jupiter HDMI Cable 12 FT
View Product Details
All orders include in home delivery and professional installation.
Product Details
Reliable HDMI cables for everyday use.

AudioQuest Jupiter 48 HDMI Cable 8FT and 12FT employ solid long-grain copper conductors, solid high-density polyethylene insulation, and precise signal geometry. Solid conductors eliminate strand-interaction distortion and reduce jitter.
Up to 10K Ultra-HD Video

Jupiter's 48Gbps data rate is made possible by upgrading the 4 balanced audio/video channels from 6 to 12Gbps. Jupiter HDMI can transfer up to professional 10K Ultra HD video, including resolutions/refresh rates up to 8K/60 and 4K/120. All 48Gbps cables are completely backwards compatible with all HDMI enabled displays ever made.
Reduced Noise

The 100-year-old practice of "100% shielding" with multiple metal braids is not good enough to prevent the distortion caused by Radio-Frequency Noise from Wi-Fi, Cellular, and Satellite interfering with delicate audio/video signals and circuits. All 19 HDMI conductors, the A/V channels, the eARC channel, and the communication and power conductors, are Direction-Controlled to drain induced RF to where it will cause the least harm.
Sound Matters

The Audio Return Channel (ARC) sends audio from a TV to a soundbar or A/V receiver. eARC (enhanced ARC) is a new capability inside the sending and receiving electronics that supports uncompressed and lossless high resolution multichannel audio, such as Dolby TrueHD Atmos, and DTS-HD Master Audio/DTS: X. Jupiter 48's ARC offers superior sound thanks to the balanced signal-pair using the same superior metal and Noise-Dissipation as the four A/V pairs.
Dynamic HDR

HDR content expands the contrast of the image for blacker blacks and brighter whites/highlights as well as greater color saturation and brightness. This combination of technologies results in more realistic images with greater perceived depth.
The information and representations contained herein regarding the goods and services described are those of AudioQuest. MasTec North America, Inc. makes no representations or warranties as to goods and services of AudioQuest and hereby expressly disclaims any such representations or warranties.